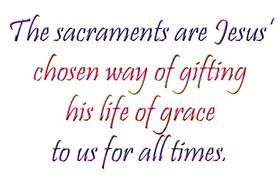 The Archdiocese of Edmonton announced the start of a one-year pilot called Sacramental Education Initiative. The project focus is on ensuring that the sacraments become pivotal lifelong events in the life of all Catholic children that lead to a deepening of their faith throughout their lives.
From September 2013 to June 2014, ten parishes including Sacred Heart Parish in Red Deer, along with their associated schools will work with the draft version of the new Guidelines for Preparing Children for the Sacraments in the Catholic Archdiocese of Edmonton.  Each pilot group was chosen to represent various realities occurring across our Archdiocese. 
For 2014-2015, Our Lady of Peace Parish and St. Marguerite Bourgeoys School have formed a second group. Father Tomasz Puslecki, pastor of Our Lady of Peace, is also our division chaplain and he is supporting other schools in their Sacramental life, including the students of École Secondaire Notre Dame High School.
We are grateful to the priests, parish staff and Catholic educators who are piloting this initiative. Their collaboration is pivotal in helping prepare our students to received the sacraments. For more information, see the Western Catholic Reporter article.